The Baltimore Ravens' victory over the San Francisco 49ers has set a record for highest overnight ratings in Super Bowl history, the Nielsen company reported Monday.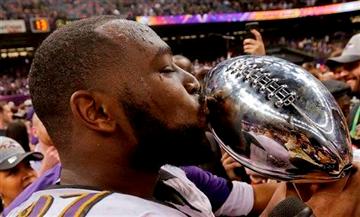 Baltimore Ravens defensive end Arthur Jones (97) kisses the Vince Lombardi Trophy after defeating the San Francisco 49ers 34-31 in the NFL Super Bowl XLVII football game, Sunday, Feb. 3, 2013, in New Orleans.

Nielsen reported the game scored a 48.1 rating and 71 share in its select measurement of big cities. That's 1 percent over a similar measurement in last year's game.

For three years in a row, the Super Bowl has set a new record for most-watched event in U.S. television history. Nielsen is expected to have an estimate of how many people watched the game later on Monday.

One ratings point represents 1,147,000 households, or 1 percent of the nation's estimated 114.7 million TV homes. The share means that 71 percent of TVs that were on at the time were tuned to the Super Bowl.
Im sure next years Super Bowl will go over the top again. Most everbody has all the new televisions with the high definition picture and sound systems and just enjoy having people over to watch events like this. Almost everone we know watched the game last night